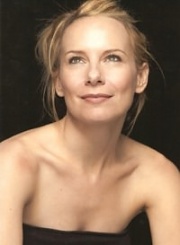 Amy Ryan has completed five highly anticipated films in the past year: Monster Trucks for Paramount, a live-action/CGI hybrid, directed by Chris Wedge in which she co-stars with Barry Pepper and Rob Lowe (May 29, 2015 release); Goosebumps for Sony (August 7, 2015) co-starring with Jack Black, to be directed by Rob Letterman and produced by Neal Moritz; Louder Than Bombs for director Joachim Trier in which she co-stars with Jesse Eisenberg, Gabriel Byrne and Isabelle Huppert; and Don Verdean for director Jared Hess, in which she stars with Sam Rockwell, Will Forte and Danny McBride which premiered at the 2015 Sundance Film Festival; and Steven Spielberg's Untitled Cold War Thriller for Dreamworks in which stars opposite Tom Hanks (October 16, 2015 release). In March 2015, she begins shooting The Infiltrator in London for director Brad Furman, starring opposite Bryan Cranston.
Ryan is currently in cinemas in the Oscar winning Birdman for director Alejandro González Iñárritu and Fox Searchlight, co-starring with Michael Keaton, Ed Norton, Emma Stone, Naomi Watts and Zach Galifianakis. The cast received the SAG Award for Outstanding Performance by a Cast in A Motion Picture.
Ryan was last seen on screen in writer/director Drake Doremus' Breathe In produced by Indian Paintbrush and Jonathan Schwartz, in which she starred with Guy Pearce and Felicity Jones. Other recent credits include Clear History directed by Greg Mottola for HBO in which she co-starred with Larry David and Jon Hamm and Devil's Knot directed by Atom Egoyan, co-starring with Colin Firth.
For her acclaimed performance in Miramax's Gone Baby Gone, she was recognized with Academy Award, Golden Globe and SAG Award nominations for Best Supporting Actress. Additionally, she won numerous Best Supporting Actress awards including those from the National Board of Review, the Broadcast Film Critics Association, the New York Film Critics Circle and the L.A. Film Critics. Her other film credits include Win Win, Green Zone, Jack Goes Boating, Changeling, Before the Devil Knows You're Dead, Capote, Dan in Real Life, War of the Worlds, Keane, You Can Count On Me and The Missing Person.
Ryan made her Broadway debut in Wendy Wasserstein's The Sisters Rosensweig. For her work in the 2000 production of Uncle Vanya, she was nominated for a Tony Award for Best Featured Actress in a Play. In 2005, she appeared as Stella in A Streetcar Named Desire, earning her second Tony nomination. She also starred in Neil LaBute's The Distance From Here in London's West End. In 2013 she starred in Lisa D'Amour's critically acclaimed play Detroit, directed by Anne Kauffman at Playwrights Horizons.
Amy's television work includes her memorable portrayals as Holly Flax on "The Office," Adele on "In Treatment" and Officer Beatrice 'Beadie' Russell on "The Wire."