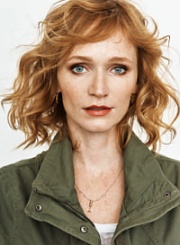 Ana Geislerová's most recently starred in Sean Ellis' feature film Anthropoid opposite Cillian Murphy and Jamie Dornan.
Other recent credits include the eponymous role in The Noonday Witch and Storyteller, directed by Vladimír Michálek.
Ana's rise to national fame began at the age of 14, when she debuted in Filip Renč's Requiem For A Doll in 1991. Since then, the country has followed her career closely, watching her develop into the Czech Republic's most widely recognised celebrity on the small and silver screen. Her numerous acting credits include Academy Award-winner Jan Svěrák's Jízda in 1994 as well as Ondřej Trojan's Želary, which was nominated for the Academy Award for Best Foreign Language Film in 2003.
She was named "European Films' Shooting Star" in 2004 and served as a member of the Shooting Stars jury in 2010 at the Berlin International Film Festival. She has been nominated for more Czech Lions than any other Czech actress, and has won 5 times.
Ana also won the Slovak Hercova Mise, a Lifetime achievement award.