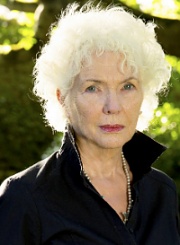 Fionnula's screen credits include Radioflash, directed by Ben McPherson, Supervized, directed by Steve Barron, Sing Me Back Home, directed by Sandrine Dumas, Birthmarked, directed by Emanuel Hoss-Desmarais, Life's A Breeze, directed by Lance Daly, Tasting Menu, directed by Roger Gual, The Guard, written and directed by Martin MacDonagh, The Others (Saturn Award for Best Supporting Actress), The Divine Secrets of the Ya-Ya Sisterhood, directed by Callie Khouri, Transamerica (Irish Film and Television Award (IFTA) for Best Supporting Actress), A Christmas Carol, directed by Robert Zemeckis, Yes Man directed by Peyton Reed, The Invention of Lying, directed by Ricky Gervais, the Academy Award winning In The Region Of Ice, Some Mother's Son, Waking Ned Divine, Michael Winterbottom's comedy feature With Or Without You, and ABC's Lost.
Television credits include Murder She Wrote, Star Trek: The Next Generation and Star Trek: Deep Space Nine, How The West Was Won (Emmy Nomination Outstanding Lead Actress in a Drama Series), Columbo for NBC, Rich Man, Poor Man (for which she was awarded an Emmy for Outstanding Single Performance by a Supporting Actor in a Comedy or Drama Series) CBS series To Have And To Hold , Brotherhood for Showtime, Redwater for BBC, American Gods for Starz/Amazon, Defiance for Syfy and Universal and most recently Origin for YouTube Premium.
Fionnula was recently seen on stage in The Ferryman on Broadway. She was nominated for a Tony Award for her performance. Other work includes Miranda in The Tempest, Ellie in Heartbreak House, Alice You Can't Take It With You, and Soldiers. She performed in An Trial (The Trial) for Dublin Theatre Festival, The Taming Of The Shrew for Bristol Old Vic, The Playboy Of The Western World at the Royal Court, Twelfth Night for the Goodman Theatre, Chicago, and A Christmas Carol at The Gate Theatre, Dublin.
She originated the role of Maggie in Brian Friel's Lovers at Dublin's Gate Theatre and for her performance as Molly Bloom in Ulysses Of Nighttown (directed by Burgess Meredith) she was nominated for a Tony Award.
Fionnula was the recipient of the Lifetime Achievement Award at the 2012 Irish Film and Television Awards (IFTA's).