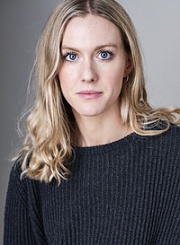 Grace is a graduate of Bristol Old Vic Theatre School. She has just finished filming Knightfall (History/Amazon Prime/Netflix) which will air this Spring.
Film & Television includes: The Killer Beside Me (October Films) Doctors (BBC); Almost Obsolete (Plentitude Productions Ltd); Between You and Me (Open Hatch Productions) and Rule of Thumb (76 Productions).
Theatre includes: All My Sons (Directed by Michael Rudman for The Rose, Kingston) Ernest The Pale Moon & Alice's Adventures Underground for (Directed by Oliver Lansley for Les Enfants Terribles); One Flew Over the Cuckoo's Nest (Directed by Michael Buffong for The Curve, Leicester); Coram Boy (Directed by Melly Still for Bristol Old Vic) The Mousetrap (Directed by Ian Talbot for St Martin's Theatre).