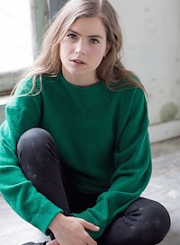 Hannah is the Dutch Shooting Star for the 2017 Berlin International Film Festival.
In 2016 Hannah won her second Golden Calf Award for Best Actress for her performance in André can Duren's THE FURY, she previously received this accolade in 2012 for her performance in Sacha Polak's HEMEL.
Hannah recently completed filming on ARTHUR & CLAIRE, she plays the title role of Claire and on LITTLE ICE AGE in which she plays Delphina, both directed by Paula van der Oest.
Other film credits include: APP directed by Bobby Boermans (2013), MAMA, MANSLAUGHTER directed by Pieter Kuijpers and MEES KEES directed by Barbara Bredero (2012)
Hannah graduated from the Amsterdam School for Drama and Contemporary Music Theatre in 2010 since then she has worked continuously with the Netherlands National Theatre.
Theatre credits include: AS YOU LIKE IT, DE STORM and GENESIS.