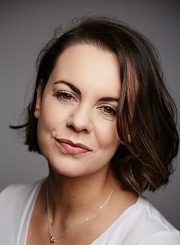 Hilary Rose is currently appearing as series regular Mairead McSweeney in The Young Offenders TV series, written and directed by Peter Foott for BBC3 and RTE. Already one of the highest rating shows on BBC3 it has been green lit for a second season after airing only it's first two episodes.
Hilary is an IFTA 2017 Best Supporting Actress Nominee. She has written and performed comedy for RTE for the past number of years, creating popular comedy characters such as Handy Sandie from Republic of Telly, Irinka and The Nun for The Fear and many more.
Screen roles include the multi award winning Irish feature, The Young Offenders, Sacrifice for Subotica, Vikings for History Channel, The Tudors for Showtime and The Centre for Baby Cow/RTE.
In 2013 Hilary was nominated as Entertainer of the Year by Tatler magazine and in 2014 she won Comedian of the Year as nominated by Stellar Magazine. She continues to write drama and comedy for production companies and broadcasters in Ireland and the UK. Hilary trained at The Gaiety School of Acting and RADA. Hilary is represented as a screenwriter by Casarotto Ramsay in the U.K.