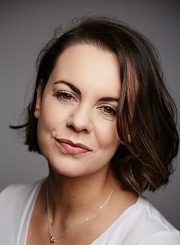 Hilary Rose is currently appearing as series regular Mairead McSweeney in The Young Offenders TV series, written and directed by Peter Foott for BBC3 and RTE. Already one of the highest rating shows on BBC3 it has been green lit for a second season after airing only its first two episodes.
Hilary is a two time IFTA nominee for Best actress in 2018 and Best supporting actress in 2017, for her complex portrayal of Mairead in the hit BBC comedy drama, The Young Offenders.
She got her TV break in two of RTE's flagship comedies, The Republic of Telly and The Fear in which she wrote and performed many of their characters to much critical acclaim.
Other credits include the lead role in Mother, a multi award winning short film, Vikings, The Tudors and Sacrifice. Hilary's latest role is in season two of Amy Huberman's Finding Joy for RTE.
Hilary is also an experienced voice over artist having voiced cartoons such as Galatik Football for Telegael. She has been the voice of many corporate campaigns including Bord Bia, SEAI and RTE.
Hilary is also a screenwriter and is represented by Casarotto Ramsay in the U.K.