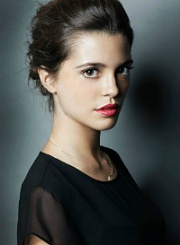 Portuguese star Joana Ribeiro is perhaps best known to international audiences for her role as 'Angelica' in Terry Gilliam's The Man Who Killed Don Quixote, which was the closing film at this year's Cannes Film Festival. She was nominated for a Portuguese Golden Globe for her role as 'Mariana' in the television series Dancin' Days, and in 2015, she played the leading role of 'Ilda' in At An Uncertain Time. From 2015 to 2016, she played 'Luisa' in the Lisbon-based TV series Poderosas and was a series regular Margarida in Sol de Inverno. She can next be seen in the comedy Portugal Is Not For Sale, and in the drama The Black Book of Father Dinis, directed by Valeria Sarmiento. She recently completed the feature film Fatima by Marco Pontecorvo, playing the role of "Mary" alongside Harvey Keitel and Sônia Braga. Joana also just wrapped a leading role in the pilot of The Dark Tower for Amazon Studios, an adaptation of the Stephen King book series. Not long ago, Joana joined the cast of Antoine Fuqua's upcoming feature film Infinite for Paramount.
Other recent film credits include: Gasolina and Heranca do Silenco.
Joana speaks fluent English and Portuguese.