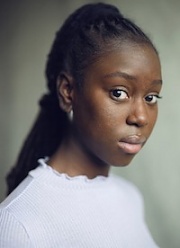 Nia will soon graduate from ArtsED's prestigious three year BA course in Acting (Summer 2020). Prior to this she attended Tring Park School for Performing Arts, and was involved in numerous productions with the National Youth Theatre. She is bi-lingual in English and Patois, and has extensive training in both dance and singing.
ArtsEd
Theatre Credits Include:
A SEWING GROUP
(Dir. Madelaine Moore)
A MIDSUMMER NIGHT'S DREAM
(Dir. Julie Spencer)
ORPHEUS DECESDING
(Dir. Jane Moriarty)
ENRON
(Dir. Oscar Toeman).
Nia also took on the leading role of Ava in the short film EX-MACHINA which was directed by Mark Steet.