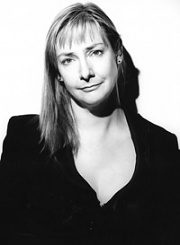 Pauline can next be seen guest starring on Inside No. 9 and Silent Witness (BBC), and the upcoming feature films Man & Witch, directed by Michael Hinds, and Last Night In Soho, directed by Edgar Wright. She has lent her voice to Riverdance: The Animated Adventure for Sky Cinema.
Television credits include series 1 and 2 GameFace (Channel 4), Trollied (Sky), Dave Allen At Peace (BBC), Drop Dead Weird (TG4/ITV), Eastenders (BBC), Father Figure (BBC), Threesome (Comedy Central), Shameless (Channel 4), The Bleak Old Shop of Stuff (BBC), Pramface (BBC). She appeared in all 3 seasons of Jam and Jersualem (BBC), Bremner, Bird and Fortune (Channel 4), High Hopes (BBC), French and Saunders (BBC), TV To Go ( BBC), The Dark Ages (ITV), It Happened Next Year (BBC), Dalziel And Pascoe (BBC), Family (BBC), Aristrocrats (BBC) and Ballykissangel (BBC). She is well known for her award-winning role as Mrs Doyle in Father Ted (Channel 4).
Film credits include Mary McGuckian's A Girl From Mogadishu, David Kerr's Johnny English Strikes Again, Michael Bay's Transformers: The Last Knight, Jim Sheridan's The Secret Scripture, Stephen Bradley's Noble, Jan Dunn films Gypo and The Calling, Richard Eyre's Iris, Heidi, Alan Parker's Angela's Ashes, Dudi Appleton's The Most Fertile Man In Ireland, Barry Levinson's An Everlasting Piece, Kieron J. Walsh's When Brendan Met Trudy, Philip Kaufman's Quills, Pat Murphy's Nora, and Gerard Stembridge's Guiltrip.
Theatre credits include Doctor Faustus at The Globe, Mother Courage And Her Children for Red Ladder, Corcadorca's Far Away, Daisy Pulls It Off at The Park Theatre, Cymbeline at The Globe, East Is East for ATG, Knight Of The Burning Pestle at The Globe, and Happy Days at The Sheffield Crucible.
With The Abbey Theatre: The Trojan Women, Comedy Of Errors, Yerma & Antigone.
With The Gate Theatre, Dublin: The Double Dealer, Tartuffe, Absurd Person Singular and School For Scandal.

With Rough Magic: The Taming Of The Shrew, Our Country's Good, The Tempest, Top Girls and The Caucasian Chalk Circle.
Pauline has published 8 best-selling novels, Something for the Weekend (1999), Better Than A Rest (2001), Right on Time (2002), The Woman on the Bus (2004), Summer in the City (2005), Bright Lights and Promises (2007), Missing You Already (2009) and The Time Is Now (2010). In 2012 she published her first novel for young people, Jenny Q, Stitched Up! with Puffin Books, and the sequel JENNY Q, Unravelled.
---
Voiceover sample 1
| | |
| --- | --- |
| Listen: | |
| Download: | |
---
Voiceover sample 2
| | |
| --- | --- |
| Listen: | |
| Download: | |