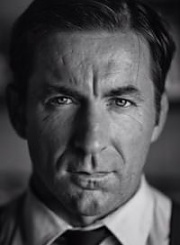 One of Spain's leading actors, Antonio has displayed incredible versatility across many Film, TV and Theatre productions and has a chameleon like ability to lose himself in roles to the point where he becomes virtually unrecognisable from one project to the next.
Among his credits are Hablar (Canal+ Espana/ Aquí y Allí Films), Happy 140, for Foresta Films, United Passions opposite Tim Roth and Sam Neill, Marshland for Atresmedia Cine and Warner Bros, Pedro Almodovar's I'm So Excited opposite Penélope Cruz and Antonio Banderas and the multi award-winning Cannibal. He appeared as Juan Apostol in The Night Manager directed by Susanne Bier, for BBC/AMC.
Winning rave reviews for his role as El Bachi in the hit Spanish comedy Cousinhood in 2010, he made an astonishing physical transformation to play Enrique in Fat People, a role which required him to pile on the pounds and resulted in a unique performance unlike any previous appearance. He has been nominated for a record 8 Goya Awards, most recently for Marshland and Cannibal, and won for his portrayal of Antonio in Dark Blue Almost Black. At the Cinema Writers Circle Awards, he won Best Actor for Cannibal, for which he went on to win at the Spanish Actors Union Awards, the Toulouse Cinespana Awards and the Jose Maria Forque Awards. He also received accolades for his role in The Last Circus at the Sant Jordi Awards and the Turia Awards, and for Fat People at the Monte Carlo Comedy Film Festival.
Antonio is represented in Spain by:
Bigarren Gure Zinema
C/ Real Nº 42, Local 5
Las Rozas, Madrid 28230
Spain
Ph: 34 91.636.32.85
Email: bigarren@bigarren.net