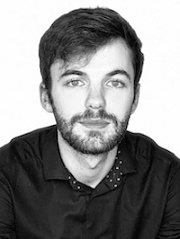 Christopher is an Irish Times Theatre Nominated Actor, 1st winner of "Young Creative of the Year, NI" and graduate of Queen's University, Belfast.
Christopher was last seen on stage in the role of James (Hook) in Replay Theatre Company's The Untold Truth of Captain Hook.
Throughout the pandemic Christopher was involved in a variety of online shows including Big Telly's Operation Elsewhere. He also co-wrote and performed in The Waiting Room a 4 part mini series for Tinderbox Theatre Company.
Christopher has appeared on screen in the BAFTA Nominated The Party, BFI's Sparrow, Superman prequal Krypton and BBC's My Mother and Other Strangers.
On Stage, Christopher most recently worked with Kabosh Theatre on A Queer Ceili at the Marty Forsythe, which earned him his Irish Times Nomination for Best Supporting Actor. He appeared in A Streetcar Named Desire for the Lyric Theatre Belfast as well as performing a sell out run of Owen McCafferty's MojoMickybo (Bedlam Theatre). He has also worked extensively with Replay Theatre Company developing theatre for Younger Audiences including Young People with Profound and Multiple Learning Difficulties.
Christopher is also part of a comedy trio Scampi, Chips and Tartar Sauce and has co-created Murder on the Dancefloor (Sell out run), Friday Night House Party (Sell out) as well as creating parody music videos and sketches.
Christopher also lends his voice to a variety of adverts on TV and Radio, and has voiced two solo pieces on BBC Radio4.