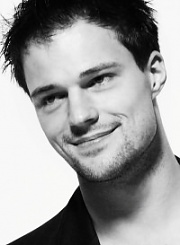 Danila Kozlovsky was born in Moscow and trained at the St Petersburg Theatre Arts Academy.
He made his stage debut as Edgar in KING LEAR for Maly Drama Theatre for which he was awarded a Golden Sofit Award for Best Debut. He went on to perform several leading roles for Maly, including Ralph in LORD OF THEFLIES and Victor in WARSAW MELODY. On screen he first came to prominence when he was awarded Best Actor by the Russian Guild of Film Critics for his performance in GARPASTUM, which premiered at the Berlin Film Festival. He also won Best Actor for his role in WE ARE FROM THEFUTURE in 2008 and other film roles followed, most notably in THETARGET, SISSY, CRIME AND WEATHER, LEGEND NO. 17, VAMPIREACADEMY and SOULLESS (Universal Pictures – see trailer below) – the highest grossing Russian picture of 2012.
Other film credits include COACH, which he directed and starred in, DOVLATOV, IN THE HOOD, MATHILDE, STATUS: SINGLE, FLIGHT CREW, SOULLESS 2, VIKING and HARDCORE HENRY. TV credits include VIKINGS (History Channel) and MCMAFIA (Amazon / BBC).
His most recent stage roles are Lopakhin in THE CHERRY ORCHARD and Hamlet in HAMLET, both for Maly Drama Theatre
He speaks Russian and English.