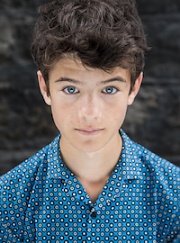 Ferdia can now be seen in his on screen debut in Artemis Fowl, directed by Kenneth Branagh in the leading role of Artemis, on Disney Plus.
15-year-old Ferdia Shaw was born in Dublin, but has lived in Kilkenny for most of his life with his family. He attends the local secondary Gaelscoil, where the students are educated through the Irish language.
Ferdia is a member of Young Irish Film Makers, where young people are given the opportunity to learn about the technical aspects of film making, and where he has made his own short films.
He has also performed in some local theatre productions with Barnstorm Theatre Company and can be seen in a short film as part of the 'Kilkenny Famine Experience'.
Ferdia is keenly aware of the crisis regarding the environment and climate change. He also has concerns about the ethical treatment of animals within the farming industry and follows a vegan lifestyle.
He is an avid reader and particularly likes science fiction and fantasy. He enjoys playing cards and board games, with Talisman being his favourite. He is a huge Star Wars fan.