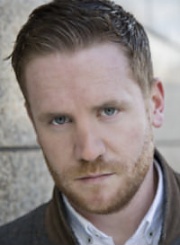 *to download videos, click play, then click the arrow on the upper right corner of the screen
Ian was last seen on stage in Evening Train at the Cork Midsummer Festival.
Ian recently appeared opposite Emmet Kirwan and Sarah Greene in the film version of DUBLIN OLDSCHOOL directed by Dave Tynan for Element Films which was released in Irish cinemas in late June 2018. Originally a two hander play which played to rave reviews in Dublin, across Ireland, and in the Soho Theatre and to sell out audiences in the National Theatre, the show has since toured internationally. Trailer for Dublin Oldschool above.
Ian appeared in THE PLOUGH AND THE STARS directed by Sean Holmes which played the Lyric Hammersmith and Gaiety Theatre Dublin following a tour of United States. In 2018 he appeared in COMMON at the National Theatre, and went on to appear in COME ON HOME by Philip McMahon at the Abbey Theatre.
Ian is still well known in Ireland for the four out of five seasons he appeared as Dean in multi-award winning drama LOVE HATE for RTE. Other film and television credits include Game of Thrones (HBO), The Clinic, Raw, The Wild Colonial Boy (TG4), Dorothy Mills (Mars Distribution), Shadow Dancer (BBC Films and Element Pictures), Standby (Black Sheep Productions) and Scratch (Warrior Films).
Born in Dublin, Ian's previous work at the Abbey Theatre includes In Our Veins (The Peacock), Sive, The Risen People, Major Barbara, Shibari, Alice in Funderland, Macbeth, The Rivals and The Resistable Rise of Arturo Ui. Other theatre work includes Every Doris Has His Day, Big Ole Piece of Cake_and _Bruising of Clouds (Fishamble: The New Play Company), Richard III (Fast and Loose Theatre Company), Ride On and Observe the Sons of Ulster Marching Towards the Somme (Livin' Dred Theatre Company), End Time (Project Arts Centre), Danti Dan (Galloglass Theatre Company), The Colleen Bawn (Bedrock Productions and Project Arts Centre), Bad Sunday (TILT Theatre Company), Ferry Tales and 50 Ways to leave Dun Laoghaire (BDNC and Carpet Theatre Company).