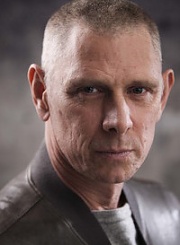 Jamie's first film role was opposite Daniel Day Lewis in The Name of the Father, directed by Jim Sheridan. Since then he has performed in over forty movies and worked with many top directors including Terence Malick's The New World, Brad Silberling's Lemony Snicket's: A Series of Unfortunate Events, Made, and Christopher Nolan's The Prestige. Other screen roles include Fast Food, Fast Women nominated for the Palm d'Or at Cannes Film Festival in 2000 as well as The Next Big Thing and I Believe in America. He also won Best Actor Award for Speed for Thespians at the New York Film Festival in 2002.
Other film work includes Terrence Mallick's Knight Of The Cups, Michel Gondry's The Green Hornet, Rise of the Planet of the Apes and The Gambler both directed by Rupert Wyatt. His most recent film was The Jade Pendant, directed by Po-Chih Leong.
Jamie's TV work includes Shameless, The Magicians, Castle, CSI Miami. NCIS LA, Life, CSI, No Ordinary Family pilot, White Collar, The Mentalist, NCIS: LA, American Horror Story, Magic City, AMC series Turn, The Kingdom, and No Eyed Gordon on Marvel's Agents of S.H.E.I.L.D. Jamie has most recently been filming on Amazon's Carnival Row.
Theatre includes Dealer's Choice at New York's Manhattan Theatre club, where he won a drama league award for his performance. Other theatre includes The New Group, in Scott Elliot's production of Some Voices and The Comedians; and The Wilma in Philadelphia where he was nominated for the Barrymore Award for his role in Rawboys. He recently garnered rave reviews for his performance in the Temblors theatre production at the Los Angles Theatre Centre of Rules of Seconds directed by Jo Bonney opposite Amy Brenneman.