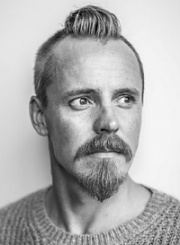 Jasper is one of Finland's best loved and most talented actors. He first came to international attention for his performance in the comedy, Lapland Odyssey, but it was his role in Heart of a Lion that won him widespread acclaim and a Jussi Award in 2014. It also led to him being cast as 'Halfdan The Black' in the international TV series, Vikings. Prior to this, he filmed Jet Trash opposite Robert Sheehan. Jasper starred as 'Felix Kendrickson' in Spike Lee's critically acclaimed and Oscar-winning film Blackkklansman alongside Adam Driver, which won the Grand Prix at Cannes Film Festival. This year, he has teamed up again with Lee for the feature film drama Da 5 Bloods, and recently completed filming on Amazon Studio's new adaptation of The Dark Tower, in which he plays a leading role.
Jasper comes from a family of actors and began acting in the Finnish National Theatre and the Helsinki City Theatre when he was a child. At the age of 20, following his studies at The Kallio Secondary School of Performing Arts, he became part of the original cast of a daily soap, which became a huge success.
At the age of 20, he was selected to play the main role in BAD BOYS, directed by the talented Aleksi Mäkelä, which became the biggest box-office hit ever in Finland. For his performance in this film, Jasper received the prize for "Best Actor" at the Brussels Film Festival in 2003. Roles in VARES and ADDICTION – WHEN NOTHING IS ENOUGH quickly followed. The film, FROZEN LAND, won many international awards including the Jury Prize in Moscow, the Nordic Award at the Gothenburg Festival and the Golden Owl at the Leeds Festival. Jasper's creative collaboration with director Aleksi Mäkelä has proved fruitful – in 2005, he starred in MATTI – HELL IS FOR HEROES, and was cast in V2.
FILM
Heart of A Lion – Harri 2013
Naked Harbour – Anders 2012
Vares – Huhtikuun tytöt – Kyypakkaus 2011
Vares – Pahan suudelma – Kyypakkaus 2011
Lapland Odyssey – Kapu 2010
Moomins and the Comet Chase – Moomintroll (voice: Finnish version) 2010
Hellsinki – Korppu 2009
Kummeli Alivuokralainen – Kikke 2008
Moomin and Midsummer Madness – Muumipeikko (voice) 2008
V2: Dead Angel – Dan 'Dante Hell' Hellman 2007
Matti: Hell Is for Heroes – Matti 2006
Frozen Land – Niko Smolander 2005
Vares: Private Eye – Jarmo 2004
Addiction – Aleksi 2004
Bad Boys – Eero Takkunen 2003
The Glory and Misery of Human Life – Arvi Hongisto 1988
Television
Pokerimestari 2006 (TV series) – Assistant Producer (5 episodes, 2006), Writer (2 episodes, 2006)
Irtiottoja (TV series) – Johnny (unknown episodes) 2003
Kaunis mies (TV mini-series) – Joonatan (3 episodes, 2003)
Salatut elämät (TV series) – Saku Salin (32 episodes, 1999-2001)
AWARDS:
2006: Named as one of European films' Shooting Stars by European Film Promotion.
Brussels International Independent Film Festival 2003 • Won, Best Actor International Competition for Bad Boys (2003).