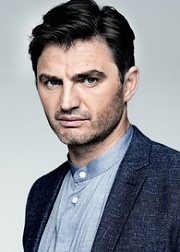 Lenn Kudrjawizki – Showreel
Lenn Kudrjawizki moved as a child with his parents from Leningrad to East Berlin. He attended a secondary school for music in Berlin where he studied acting, voice, and violin. In Dresden he refined his skills on the violin and studied piano and composition. He gratuated with a Master of Arts in Music.
Lenn is an exceptional talent and has played in more than 30 TV and feature film productions, including POPE JOAN, THE COUNTERFEITERS (2008's Oscar winner for best foreign-language film), Paramount Picture's JACK RYAN: SHADOW RECRUIT, directed by Kenneth Branagh, BERLIN STATION, and THE TRANSPORTER LEGACY, which was written and directed by Luc Besson. Lenn recently completed shooting the new series regular role of "Prince Dir" in the critically-acclaimed drama VIKINGS for The History Channel/MGM, which will air in 2019.
NATIONALITY: GERMAN
LANGUAGES: GERMAN, ENGLISH, RUSSIAN
Lenn Kudrjawizki – Teaser