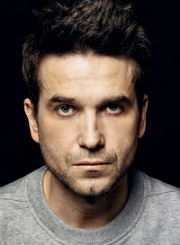 Marcin is one of the most talented and respected actors in Poland.
He appeared opposite Cillian Murphy and Jamie Dornan in the key role of "
Ladislav Vanek in Sean Ellis's Anthropoid. He is well known for his portrayal of conflicted, troubled characters such as: Despero in Pitbull (2005), Jacek Mroz in Offsiders (2008) and Otter in Manhunt (2012), as well as his debonair leading man roles, handsome, virile, charismatic and charming: Bronek in Reverse (2009) or Kostek in The Perfect Guy For My Girlfriend (2009).
Marcin's English speaking roles include: Spies of Warsaw for the BBC, starring David Tennant and Julian Glover and Run for Channel 4, opposite Olivia Coleman.
Marcin most recently featured as Konrad in Wojciech Kasperski's The High Frontier and also played the lead role of Ryszard Kuklinski in feature film Jack Strong, opposite Patrick Wilson.
Languages:
Polish, English, Russian