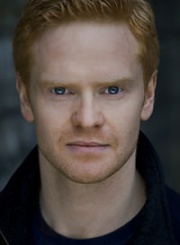 Mark will next be seen on stage in the remount of Paul Howard's highly successful Copperface Jacks: The Musical.
Mark most recently appeared in Noelle Brown's FOXY at the Project Arts Centre and in LUCK JUST KISSED YOU HELLO by Amy Conroy at the Galway Arts Festival and Dublin Theatre Festival 2015.
Mark's theatre credits include playing Francis Ledwidge in STILL THE BLACKBIRD SINGS (Derry playhouse/Project), ON THE OTHER SIDE OF THE WALL (UK/Algeria Tour), Mack in BACCHAEFUL, Lysander in A MIDSUMMER NIGHT'S DREAM (National Tour), CRUEL & TENDER(Project), ROMEO & JULIET (Gaiety Theatre Dublin), A HARLOTTS PROGRESS, Eddie in DUCK (Edinburgh Festival), MERCHANT OF VENICE, JOAN OF ARC, OEDIPUS REX, 6 CHARACTERS IN SEARCH OF AN AUTHOR, HOTEL PARADISO, SCENES FROM THE BIG PICTURE (Cochrane Theatre London), HEDDA GABLER, ANTONIO, A LAUGHING MATTER and WILD HONEY. Mark re-appeared as Lieutenant Langon in THE PLOUGH AND THE STARS directed by Wayne Jordan at the Abbey Theatre, Dublin in the 2012 Abbey remount following a hugely successful run at the Abbey Theatre in 2012. He appeared in Second Age's productions of HAMLET (directed by Aoife Spillane Hinks) and MACBETH (directed by David Horan) on tour across Ireland. Mark appeared in John Breen's hugely popular play ALONE IT STANDS at the Olympia Theatre and on tour across Ireland. He appeared in BREAK for the Dublin Fringe Festival 2014 directed by Veronica Coburn and featured in the final episode of Season Two of VIKINGS for History Channel/MGM.
Mark has worked with theatre companies such as Fishamble, Second Age, Storytellers, Hatch, Dirty Market, Real Circumstance and Tightrope. He is a founding member of Perennial Theatre Company. Mark won The Spotlight Award in 2006.
Films include: COMMUNE, 8:31, ON THE RUN. Radio work includes several plays for RTE radio. Mark trained at the Drama Centre London and at Ecole Philippe Gaulier in Paris.