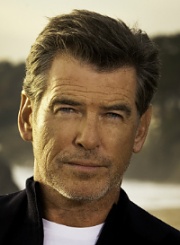 Pierce Brosnan is a multi award-winning Irish actor and film producer.
In recognition of a rich and extensive career in front of the camera and behind the scenes as a producer, Pierce Brosnan will receive the honorary award European Achievement in World Cinema.
Pierce is currently filming AMC's new series SON in the lead role of Eli McCullough. and has recently completed production on THE FOREIGNER, a Martin Campbell film, co-starring Jackie Chan. He has also recently wrapped on THE ONLY LIVING BOY IN NEW YORK alongside Jeff Bridges for director Marc Webb and will next star in ACROSS THE RIVER AND INTO THE TREES, based on Ernest Hemingway's classic novel of the same name and directed by Martin Campbell.
Among Pierce's numerous film credits are Bruce Beresford's MR. JOHNSON (1990), Brett Leonard's THE LAWNMOWER MAN (1992), THE THOMAS CROWN AFFAIR directed by John McTiernan (1999) and THE TAILOR OF PANAMA directed by John Boorman (2001), to name but a few. Action, comedy and romance – Pierce Brosnan has done it all, be it as KGB officer Valeri Petrofsky in THE FOURTH PROTOCOL directed by John Mackenzie (1987), as neurotic hitman Julian Noble in THE MATADOR directed by Richard Shepard (2005), as Gideon in SEREPHIM FALLS for director David Von Ancken (2006), as Richard in THE LOVE PUNCH directed by Joel Hopkins (2013) or as former British prime minister Adam Lang in THE GHOST WRITER directed by Roman Polanski (2010).
He has played a multitude of contrasting roles – singing Abba songs as one of the fathers in MAMMA MIA! directed by Phyllida Lloyd (2008), playing the angry businessman and widower Philip in LOVE IS ALL YOU NEED directed by Susanne Bier (2012) and a tough former agent, Peter Deveraux, in the action thriller THE NOVEMBER MAN directed by Roger Donaldson (2014).
From 1995 to 2002 he embodied the world's most famous secret agent, James Bond, in GOLDEN EYE, TOMORROW NEVER DIES (for which he received an EFA nomination), THE WORLD IS NOT ENOUGH, and DIE ANOTHER DAY.
In addition to his work in front of the camera, Pierce Brosnan has long had a passion for the art of filmmaking. He launched his own production company and has produced 11 films to date including THE NEPHEW (1998), THE THOMAS CROWN AFFAIR (1999), THE MATCH (1999), EVELYN (2002), LAWS OF ATTRACTION (2004), THE MATADOR (2005), SHATTERED (2007), THE GREATEST (2010), THE NOVEMBER MAN (2014) and I.T. (2016).