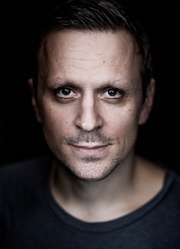 Ray's one-man show The Bluffer's Guide to Suburbia appeared as part of the Dublin Theatre Festival 2019.
Ray appeared in the Gate Theatre's hugely successful and critically acclaimed production of The Great Gatsby directed by Alexander Wright.
Awarded 'Best Male Performer' at the Dublin Fringe Festival Awards in both 2013 & 2008, the awards were given for his one-man shows: Deep (2013, also nominated for 'Spirit of the Fringe') & Mimic (2008, directed by Tom Creed, which went on to tour to the Galway Arts Festival, Kilkenny Arts Festival, Irish Arts Center, New York (2011), PS 122, New York (COIL festival 2010), the Centre Cultural Irlandais, Paris and the Electric Picnic Festival 2011.
In 2016 Ray appeared alongside Olwen Fouéré in two-hander Death At Intervals adapted by Kellie Hughes, co-produced by the Galway International Arts Festival.
Ray played 'John' in Chris Goode's one-man show Infinite Lives, directed by Nik Partridge at the Tobacco Factory, Bristol in 2014.
In 2009/2010 Ray played Blake in Druid Theatre Co.'s world tour of The Walworth Farce by Enda Walsh. Also taking various parts in the DRUID 35 year celebrations (From Galway to Broadway, 2010). In 2011 Ray went on to play Barney Bagnal in Druid's Production of The Silver Tassie, as part of the Lincoln Center Festival 2011, New York.
Ray's other Theatre credits include: The Odd Couple at The Everyman Theatre (2019), The Red Shoes at the Gate Theatre (2018), 'Nat' in Rough Magic's Production of Hilary Fannin's Famished Castle (2015) 'Steve' in Rough Magic's Production of Declan Hughes' Digging For Fire and 'Lee Harvey Oswald/The Balladeer' in Stephen Sondheim's Assassins, directed by Ronan Phelan as part of the Rough Magic SEEDS showcase.
(He also composed the music for Alice in Funderland, a thisispopbaby & Abbey Theatre Co-Production at the Abbey Theatre, Dublin, 2012 & Town is Dead by Philly MacMahon at the Peacock Theatre, Dublin in 2016 (Winner, Best Sound Design Irish Theatre Awards 2016.)