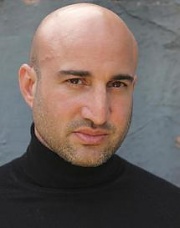 Shashi Rami Material

*to download videos, click play, then click the arrow on the upper right corner of the screen
Shashi has just finished filming US crime/drama QUANTICO directed by Russell Lee Fine for ABC. He will next appear as Zoltan in the highly-anticipated comedy/drama METAL HEART directed by Hugh O'Conor for Treasure Entertainment.
Shashi was most recently seen as Jair in Season 2 of martial arts adventure series INTO THE BADLANDS created by Alfred Gough and Miles Miller for AMC. He also appeared as Mr. Gibbs in Daniel Brocklehurst's riveting 3-part drama COME HOME directed by Andrea Harkin for the BBC and played the part of Chef Collins in ROYALLY EVER AFTER for Hallmark.
Recent credits include six-part drama REDWATER directed by Jesper W. Nielson (BORGEN) for the BBC, THE FALL (Series 3) created by Alan Cubitt (BBC), THE SECRET directed by Nick Murphy (ITV), THE FLAG directed by Declan Recks (Treasure Entertainment) and BAD DAY FOR THE CUT directed by Chris Baugh with Six Mile Hill Productions.
Previous film and television appearances include Steven Spielburg's SAVING PRIVATE RYAN, SPEED DATING, HARRY POTTER AND THE GOBLET OF FIRE, 50 DEAD MEN WALKING, the role of Pedro in Anthony Byrne's award-winning feature film SHORT ORDER, IFTA award-winning RTÉ drama LOVE/HATE created by Stuart Carolan for Octagon Films, CAMELOT on Starz, GLASSLAND directed by Gerard Barrett with Element Pictures ('Best Irish Feature Film', Galway Film Fleadh 2014), RTÉ's highly-acclaimed political drama CHARLIE directed by Kenny Glenaan for Touchpaper TV and British crime drama LINE OF DUTY 3 created by Jed Mercurio for the BBC.
Other television work includes AMBER directed by Thaddeus O'Sullivan for Screenworks, Detective Superintendent Vikram Singh in two-part crime drama UNDENIABLE written by Chris Lang for ITV and Irish language drama SCÚP directed by Declan Recks with Stirling Television. More recently, he appeared in a recurring role as Vik Cullen in RED ROCK on TV3 and VIKINGS 4 directed by Ciaran Donnelly for History.
Stage work includes A WOMAN OF NO IMPORTANCE (Abbey Theatre), HAMLET and KING LEAR (Second Age), THE MASSACRE AT PARIS and KEY WEST directed by Jimmy Fay (Bedrock), JUDAS OF THE GALLARUS (Peacock Theatre) and JULIUS CAESAR (Loose Cannon).