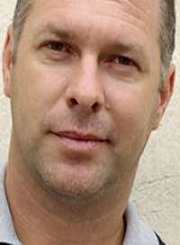 *to download videos, click play, then click the arrow on the upper right corner of the screen
Vlad most recently wrapped in the leading role of Victor Ganz on HIER, a new film by Hungarian director, Balint Keneyres. He featured in three films in the 2016 Cannes Film Festival: Maren Ade's TONI ERDMANN playing the role of Illliescu, Chief Inspector in GRADUATION (Cristi Mungiu) and Samir in DOGS. He recently played Piotr, Jim Carrey's boss in the film TRUE CRIMES.
Prior to this Vlad played the role of Franco The Elder in SNOWPIERCER directed by Bong Joon-Ho and Grossmeier in Sergei Loznitsa's INTO THE FOG. He also played the role of Dinu Laurentiu in CHILD'S POSE, which won the Golden Bear at Berlin in February 2013.
Winner of the LA Critics Award for his brilliant portrayal of abortionist Dr. Bebe in 4 MONTHS, 3 WEEKS, 2 DAYS, Vlad Ivanov's versatility has established him as one of Europe's great character actors. It's his ability to portray both the kindly neighbour-next-door character alongside the creepy, evil one that marks him out as a special actor. As well as his film work, Vlad Ivanov is an accomplished stage actor and has received many domestic awards in Romania for his work in both stage and screen.
He speaks English, French, Russian and Italian.
Other notable films include POLICE, ADJECTIVE (Corneliu Porombiou) which won Best Film at Un Certain Regard in Cannes 2009 (and for which Vlad won Best Supporting Actor at the Romanian GOPO Awards); TALESFROM THE GOLDEN AGE (Hanno Hofer); THE CONCERT (Radu Mihaileanu), which was nominated for a Golden Globe; THE WHISTLEBLOWER (Larysa Kondracki) and PRINCIPLES OF LIFE (Emilian Velicanu), for which he is received rave reviews.
His outstanding theatre work includes: Richard The Lion Heart in THE LION IN WINTER; Kulygin in THREE SISTERS and The Angel in JOANOF ARC, FILE PAGES; and Sir Lucius O'Trigger in THE RIVALS.
In 2005, Vlad was awarded a Medal For Cultural Merit, presented by the President of Romania.